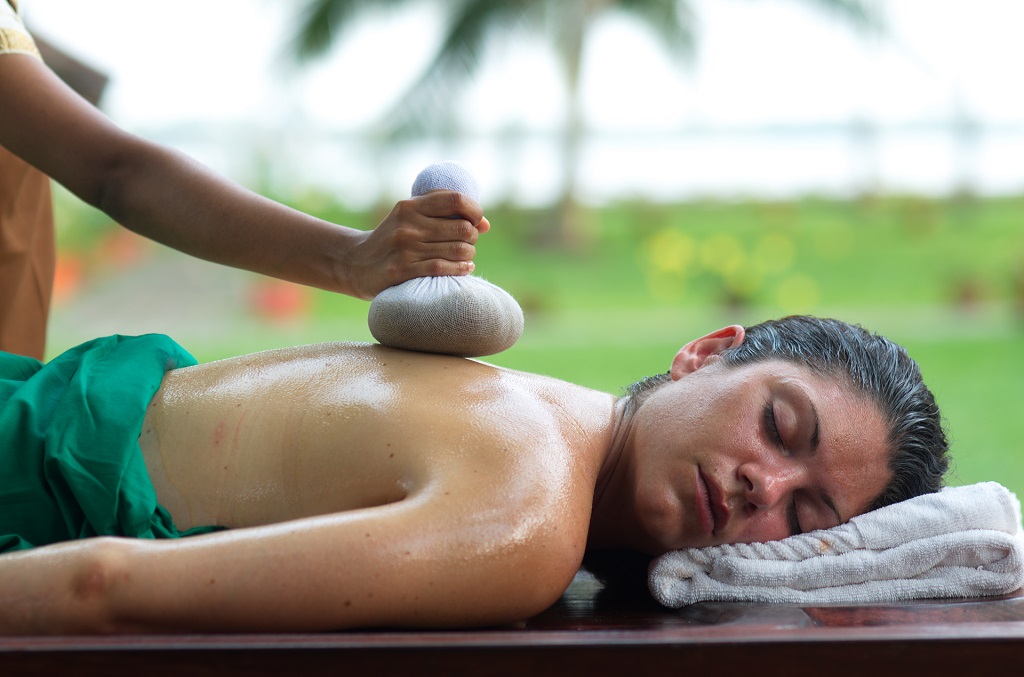 Kerala a 365 days destination for Ayurveda
---
Ayurveda is a perfect ancient science of life, the word AYUR literally means life and VEDA the science or knowledge. Ayurveda originated 5000 years ago in India.
Also health according to Ayurveda can be defined as a state of equilibrium of body constitution (Prakrithi) by the action of Three Doshas (called Vatha,Pitha and Kapha). The three Doshas are formed from the five elements, they are 1. Earth 2. Water 3. Fire 4. Air 5. Ether (called Pancha Maha Bhoothas). According to Ayurveda every living and non-living being in this universe is a combination of these five basic eternal elements, called Pancha Maha Bhoothas.
In Kerala 365 days are good to take Ayurveda treatments, because of its moderate climate.
The best time advised by the text of Ayurveda is June to November period, because of its cool and invigorating climate.
June to November period is considered the best season for Ayurveda health, wellness and beauty programmes as the atmosphere remains dust-free, moist and cool, which in turn opens up the body pores making them more receptive to herbal oils and therapy. Any Ayurveda treatment taken during this time boosts the immunity and it has a long-lasting effect.
The minimum period required to get a good result is 10 to 14 days to correct the imbalance of Doshas and rejuvenate the body. The best advised period is 14 days and more.
Here at Somatheeram they administer treatments based on the authentic Ayurveda philosophy. According to Ayurveda "health is the balance of Mind, Body and Soul".
The routine starts with one-to-one consultation by the team of Doctors for analysing patients' body constitution (Prakrithi) and disease condition (Vikirithi). During the process Doctors assess your current body-mind state (vikriti) and compare it to the unique ayurvedic constitution with which you were born (prakriti). Both your prakriti and vikriti are a unique blend of the three doshas—vata, pitta, and kapha—and numerous factors can disrupt their delicate balance such as "wrong diet, habits, and lifestyle, along with seasonal changes, repressed emotions, and stress factors can change the balance of vata, pitta, and kapha which affects agni, digestive capacity and gastric fire, and produces toxins."
After diagnosis, prescribe a daily Treatment programme, Herbal internal medicines, Diet and Yoga. Also focusing on the dos and don'ts that one has to follow to maintain the balance of Mind, Body and Soul which favours the wellbeing of each individual to lead a healthy, happy, comfortable and advantageous life physically, mentally & socially.
Here you learn how to combine food yoga and meditation, when we go back home. They are taught Yoga and Meditation from basic yoga practice to follow it by themselves in their prolonged lifestyle.
Also, they learn to practice the diet as per their Body constitution and weather condition, what to eat and what not to eat. They are taught to practice the same at home.
A Day at Somatheeram
6am- internal medicine advised by doctors.
Meditation 7.30 am – 8.00 am
Yoga 8.00 am – 9.30 am (Beginners) or 10.00 am to 11.30 am (Advanced)
07.00 – 11.00 am - Breakfast (Vegetarian) Advised by doctors
Minimum 2 hrs of treatment per day as per available schedule (it may vary as per Doctor's direction and type of therapy Booked)
12.30 – 03.00 pm - Lunch (Vegetarian) Advised by doctors
Yoga 5.00 pm to 6.30 pm Yoga session (intermediate)
7- 10 pm - Dinner (Vegetarian) Advised by doctors
Bed Time - Before 10.00 pm
Guest can avail ½ an hour Meditation and 1& ½ hours yoga session per day from any of the above yoga schedule as per your choice.
Minimum 2 hrs of treatment per day as per available schedule (it may vary as per Doctor's direction and booked therapy)